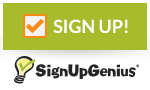 CLICK THE "SIGN UP'" GREEN BOX ABOVE TO ASSIST WITH BMA DISASTER RELIEF/JUST THE CRUMBS MINISTRY!!
UPDATE…
BMA Disaster Relief/Just the Crumbs Ministry is in need of volunteers to deliver and pass out food in the different neighborhoods where they are serving those cleaning up from the recent flooding. If you are available to help they are asking that you to SIGN UP at the link above so they can plan accordingly. They need help this Friday & Saturday, and all next week beginning on Monday. You can see the times they are needing help by using the link above. This ministry will be involved in feeding the workers for at least the next 6 weeks.
     According to a post from Immanuel Baptist Church, "BMA Disaster Relief/Just the Crumbs has set up at Immanuel (61 Green Valley Dr., Greenbrier, AR) to provide meals to relief workers in central Arkansas. Their main goal is to reach people, minister to them and share the love of Jesus Christ as well as a hot meal. Teams will be sent out of Immanuel with hot meals, to-go plates, cups and a cooler of tea to various locations in Central Arkansas. Each team will serve meals, pray for relief workers, witness to them and distribute supplies if needed. Lodging facilities are available at Immanuel for those coming in from out of town, just bring a cot and bedding. There will be shower and bathroom facilities, and all meals are provided."
To sign up to serve, or to make a monetary donation to the effort, see the shared post from Immanuel on their Facebook page, their shared article on the Baptist Trumpet page or contact Just the Crumbs (JtC) Director Lavon Haden at (601) 522-6055.
Current Needs
When I contacted Bro. Haden Monday to ask about pressing needs, he said: "We started feeding Friday (June 21) with 150 meals for White Hall at Island Harbor Fire Department. We prepared 180 meals Saturday, but we need help with finding the people who need meals. We feed volunteers and victims. Please contact us if you know someone who need hot meals."
When I asked him what supplies he needs, he said: "Hamburger patties and buns, which can be delivered to Immanuel Baptist Church." He also said they could also use some to-go plates with fold over lids. "We have several, but it takes a lot," he added.
Please help where you can, and most of all, pray for this ministry and everyone involved.